Launch Coworking: We love supporting our city and supporting local businesses :)

23 Feb 2020 Sanjay Jain
(This is part of a series of interviews with SmartNinja location partners.)
Launch Coworking is one of the most popular coworking spaces in Winnipeg. We decided to ask the Launch Team a couple of questions so that our students and anyone else interested in joining a coworking space can learn more about the place.
1. Hi! Please briefly describe your coworking space. Where is it located and what are the best ways to reach it?
Launch is a coworking, meeting and event space where entrepreneurs, freelancers, office nomads, remote workers, small & multi-national businesses, small teams, and innovators can work, meet, connect and collaborate.
It's a place where people can grow their idea, business, profession or passion project through the community, collaboration and collective wisdom. It's more than a shared office space, it's a safe and predictable place where you'll be inspired by the community of others.
We have two locations - one in the south end of the city on Chevrier Blvd and the other office is located in the exchange in the Old Grain Exchange building.
2. How many coworkers can your place host? How many desks/spaces are "fixed" and how many flexible?
We have a few different areas within our space - We have 16 permanent desks for members and we have our "hot desk" areas which seat up to about 45 members. We can host up to about 120 members if every space is used including our meeting rooms, kitchen, library, and our green spaces. Our 2nd location is 1000 square feet bigger so can accommodate a bit more.
3. Do you offer any separate offices for companies? Can a person or a company rent an office at your coworking space?
Our southside location does not offer individual offices but we do have meeting spaces/rooms that companies can use. Our exchange does, however, have 4 individual offices that can be leased and we have 3 executive offices. Our exchange location also offers meeting space that can be used by anyone.
4. How do you take care of entertainment? Any ping-pong or foosball tables there? Do you organize community brunches or trips?
We don't have a ping pong table or foosball table but we do have a basketball net which our members enjoy - We also have green spaces, that's a chill zone for the members and could turn into a mini-golf course. We do put on events for our members like Happy Hour and Waffles every month and we have beer on tap that we bring in from a local brewery every month.
5. Are there any private common rooms available, like a conference room or a "phone booth" (for video calls)?
We have private conference rooms at both locations, phone booths (3) and private meeting rooms.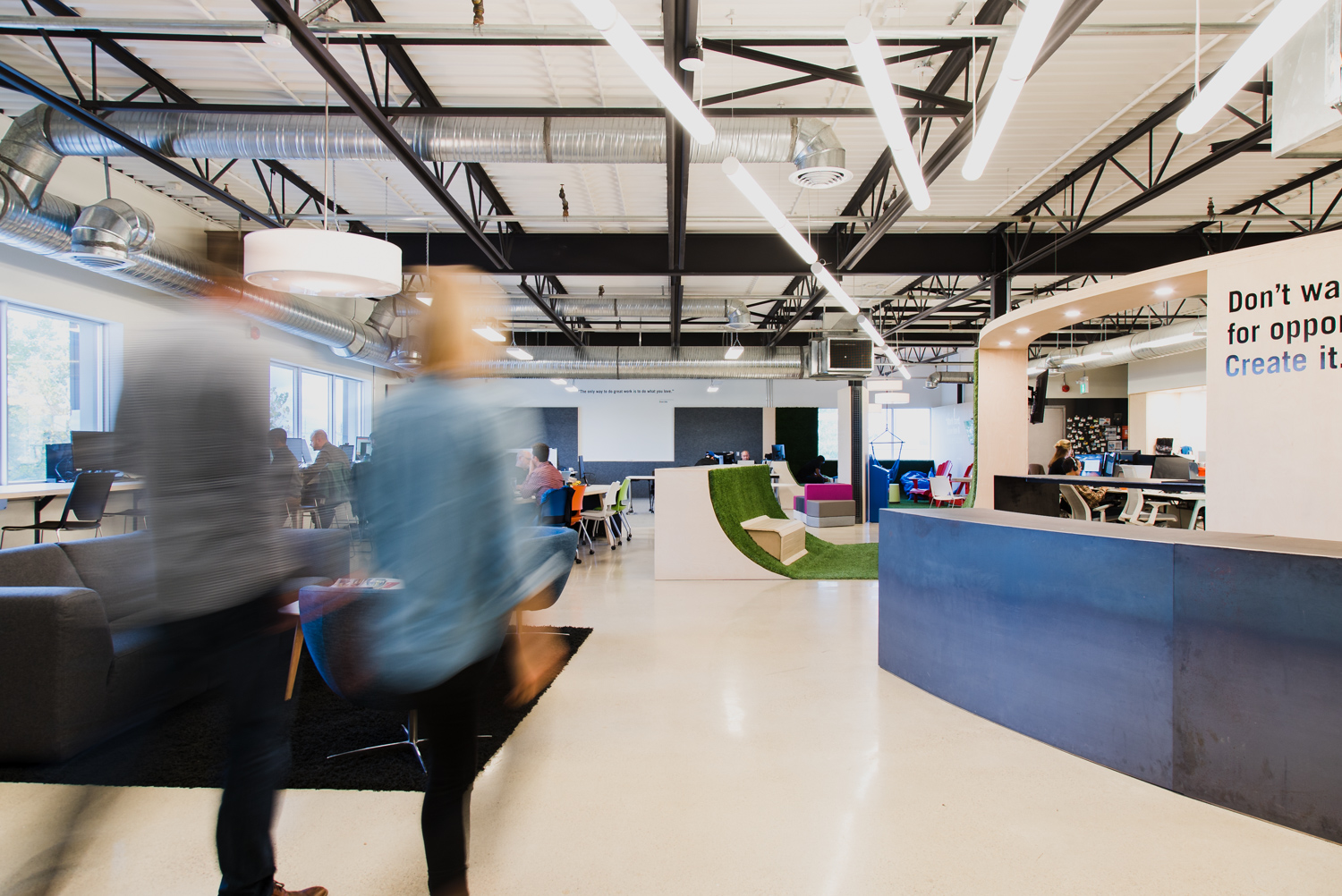 6. What's the craziest/funniest thing that has ever happened in your coworking space?
I've only been in the space as a general manager for 7 months and I'm not sure about crazy but I had the beer keg explode on me when I was changing it over. We also had a huge storm and there was a huge leak in the roof and water just came pouring in from one spot.
7. Have you had any international visitors (like digital nomads) in your coworking space? Which countries did they come from?
We have a wide range of ethnicities in our space but no international visitors since I've been in the space. We did have one member join from Belgium before he moved to Winnipeg permanently.
8. What kind of skills do people in your coworking space have? Is it mostly programmers, or marketers, etc.?
We have a wide range - Marketers, Lawyers, Engineers, Designers, Social Media/SEO experts, Nutritionists, Programmers, Digital Marketing, Event Planners, Accountants, Developers, Coders, Graphic Designers, Event Planners just to name a few. Launch is a great space to meet and connect with others in different fields. We have members and non-members who use each other's services that overall help their businesses.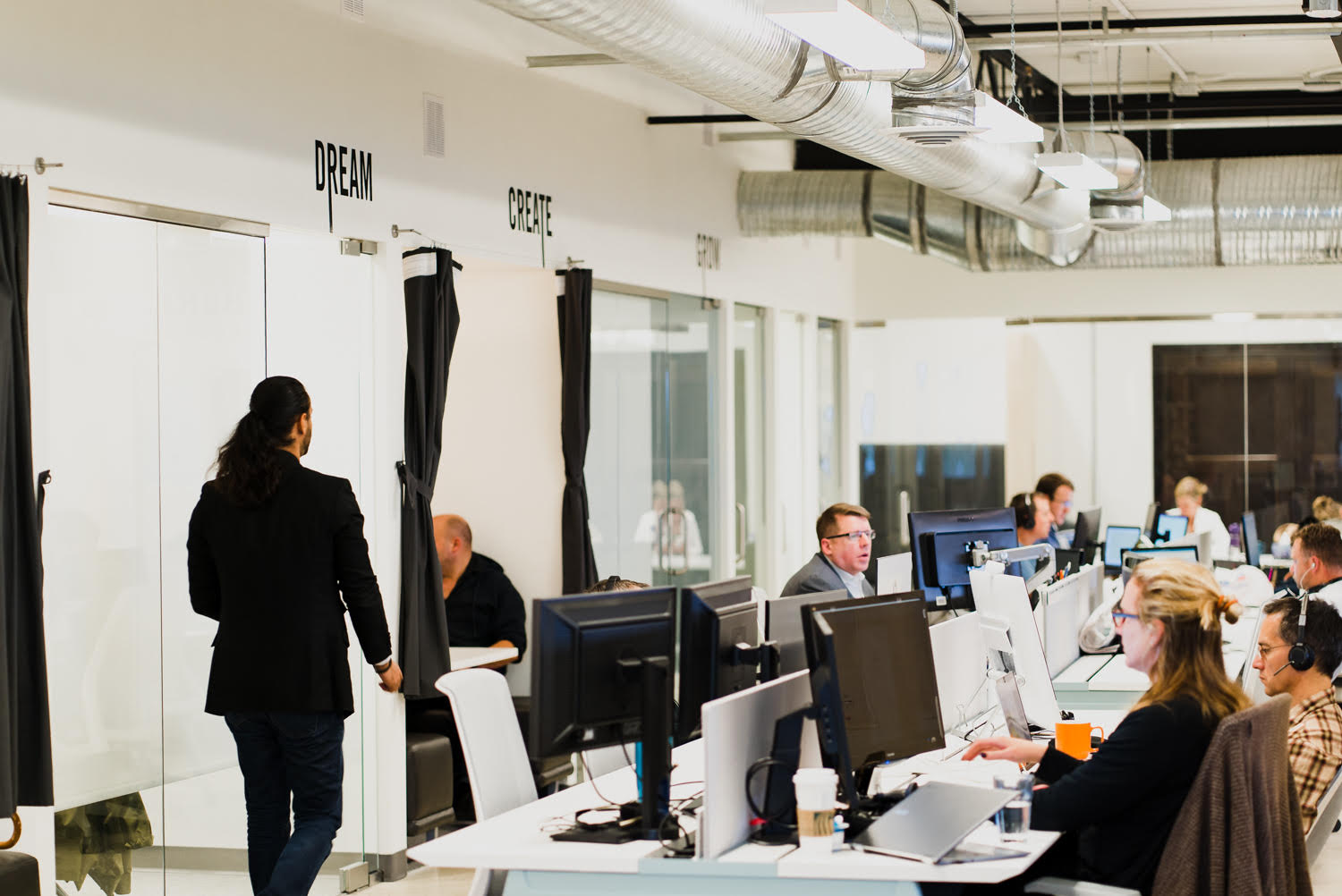 9. Where do people from your coworking space most often go to lunch? Do you have a dining room and a kitchen in your space? Any visiting chefs?
We have a kitchen and members usually bring their own food or order from surrounding restaurants. We have had catered lunches for special occasions and we do bring in treats every now and then. Members eat wherever (the kitchen, their desk space, our fun green space that has bean bag chairs, our little library nook area, etc) And we actually do have a member who is a professional chef :)
10. Would you like to share anything else with us? What is the best way to reach out to you and where can our readers get more information?
Readers can email me, [email protected], or our other community leader Caitlyn [email protected] to find out more, they can visit our website www.launchcoworking.ca and they can follow us on any social media platform.
Our main objective/mission is to provide a space that supports dreams and ideas. We want to see our members grow and connect with one another. We love supporting our city and supporting local!!
#programming
#colocation
#dreams