The best time to start programming is yesterday, the next best time is today.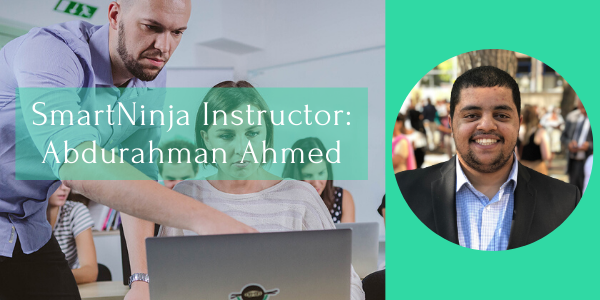 20 Nov 2019 Smart Ninja
Hey, please tell us who you are and what do you do :)
Hello, my name is Abdurahman Ahmed and I am a Computer Science Student at the University of Manitoba. I am an Instructor at SmartNinja and an independent Web Developer.
What does your typical day look like?
Outside of school, I work on personal projects to keep my skills sharp. I start with an overview of my project to see what tasks I have completed and where I am looking to go.
After spending some time planning and looking at the documentation, I begin programming. I spend most of my free time programming and testing the features for my project.
What did you want to become when you were a child?
Growing up my parents wanted me to become a doctor, but I was always fascinated with technology. After taking an elective Computer Science class, I saw the potential in Software Development and made the change.
What achievement or project are you most proud of?
The project I am most proud of is my first android app called XpenseTracker.
I designed this app for my dad so he would be able to track certain expenses and get the reports he needs. Since I had never developed an app at the time, I learned a lot along the way.
What's the craziest/funniest thing that has happened to you?
We had a brutal winter one year and I just could not find a way to stay on my feet. One day I hopped out of a truck right on a patch of ice. I spent a couple of minutes flailing around trying to stay on my feet before falling square on my rear. That must have been the 5th or 6th time I had fallen that season.
Do you have any hobbies?
In my free time, I like to play basketball. As much fun as developing is, sitting in front of a computer every day can be tiring. I like to exercise a couple of times a week to keep my body fresh.
Do you have any personal principles that you try to live by? What are they?
Never give up.
I learnt that programming is never a cut and dry process. You might be dealing with new technologies, tools or a nasty bug. Persevering through these challenges will make you a better programmer.
You're a SmartNinja coding instructor. What is your motivation for teaching?
I learnt a lot of theory in school but didn't have a chance to use those skills. I spend a lot of time scouring the internet to teach myself practical skills. At SmartNinja, I can share my knowledge with the students so they can focus on improving learning and creating.
Do you have any advice for people who'd like to start learning how to code and perhaps become professional programmers someday?
Don't wait.
The best time to start programming is yesterday, the next best time is today.
SmartNinja is a great place to start your career pursuit. Our guided learning with your dedication and practice will train you to become a professional programmer.
Where do you see yourself in 10 years? :)
Hard to say because technology moves so fast. One thing I am sure of is that all the doors will be open because I have a skill that is in demand always – coding.
Wherever I end up, I will be a leader that will support my team. I will always continue learning so I can continue to be on the bleeding edge of technology.
---
Why not learn more about programming at our upcoming Info Session - click here now!
---
Ready to take the next steps and learn more about becoming a coder? Get your own FREE e-book ---> "5 Steps to Become a Professional Programmer"
instructor
interview
coding